1
Carin Koch, LPGA
WGC Staff Pro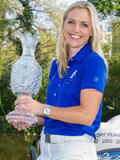 Thank you WebGolfClub.com sponsors!
Visit them all »HERE
The 2 Governing Bodies of Golf:

14-1b of the Rules of Golf that prohibits anchoring the club in making a stroke. The new Rule will take effect on January 1, 2016, in accordance with the regular four-year cycle for changes to the Rules of Golf.

For more information, visit HERE.
WebGolfClub.com is Recognized by the
PGA of America