1
Carin Koch, LPGA
WGC Staff Pro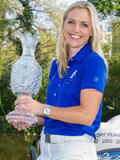 Thank you WebGolfClub.com sponsors!
Visit them all »HERE
» WebGolfClub's Book Recommendation

Depending who you ask, shots under 100 yards make up 60-70% of all the shots taken during a round of golf. Even the most skilled golfers can find themselves struggling with the all-important short game. There is no better instructor in this area than Dave Pelz. His 5 books are a sure way to lower your scores.

WebGolfClub's Book Recommendation...

Dave Pelz's Series:

» Golf w/o Fear

» Putting Bible

» Damage Control

» Golf Without Fear

» Putt Like the Pros

A former research scientist at NASA, Dave Pelz founded the Pelz Golf Institute and the Dave Pelz Scoring Game Golf Schools

» Top 50 Golf Books

Here's a few book selections that you may enjoy. We published the 50 best selling golf books on Amazon.com. If you have any questions or would like specific recommendations, CONTACT one of our PGA Professionals. We will be able to recommend a book that will fit your exact needs.
WebGolfClub.com is Recognized by the
PGA of America