1
Carin Koch, LPGA
WGC Staff Pro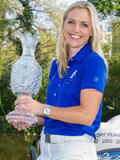 Thank you WebGolfClub.com sponsors!
Visit them all »HERE
Our Juniors are the future of Golf and are the top priority at Webgolfclub. We offer many opportunities for our Junior Members. Our Junior Member Database is a very useful tool in locating other juniors at the same skill level. You can meet other Junior Members either in your area or on the other side of the world. We plan to offer many exciting programs for our Juniors, including tips and resources for obtaining College Scholarships. To become a Junior Member, you must be age 17 and under. We have many upcoming programs.

College Golf Websites:

.

Add a Website

Coming Soon:

* College Information Database

* How to write a College Application

* Scholarship Availability

* Golf Coach Information

Registration for next year's Drive, Chip and Putt Championship is now open. We are excited to announce that local qualifying will be conducted in all 50 states. Junior golfers will have the opportunity to participate at 256 local qualifiers around the country throughout the summer.

WebGolfClub Team Junior Tournament

Coming this Spring is the WebGolfClub Team Junior Tournament Series. Choose your own 4 man team and compete for 10 weeks. We will use 80% of each participants handicap. More information coming shortly...

Location: Southeast Florida

Course: TBD

14th Annual Summer Jr. Clinic

Edenhof Golfklubb, Bälinge Sweden.

Thank you to all participants. This was our most successful Summer with over 50 participants.
WebGolfClub.com is Recognized by the
PGA of America